I'm sure you've all noticed by now that I love vintage magazine covers.
Harper's Bazaar
is my fave. This one caught my eye both because it covers summer reading, and -- more importantly -- the "lazybones diet." Of course this piqued my curiosity. I searched to no avail for the subject in the
Harper's
archives. Here's some stuff I did find about 1950s dieting.
Diet Rite
cola was released in 1958 as a "dietetic" product. It was later introduced and marketed as a "healthful" beverage in 1962.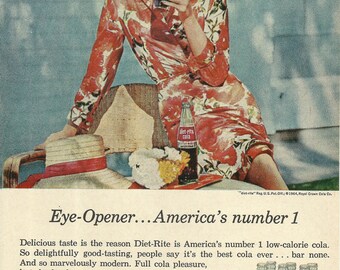 Averyl Hill writes a
blog
dedicated to vintage diets. Check it out. She is working on this e-book:
Retro-Housewife
is an interesting blog that covers dieting by the decade.
According to a 2003 study by the woman's magazine
Prima
as reported in the
dailymail
, 1950s woman burned more than 1,000 calories a day performing their daily domestic duties. How you may ask?
They spent 3 hours a day doing housework, an hour walking to and from town to shop -- the butcher's, the baker's, the green grocer's and other specialty shops -- an hour shopping itself and another hour making dinner.
Many had to prepare lunch as their husbands came home to eat in the middle of the day (Ugh!).
Family cars were scarce so they had to walk their kids to and from school.
Let's take a look at the numbers:
Three hours housework (150 cals. an hour): 450
One hour walking to shops (280 cals. an hour): 280
1 hour shopping (200 cals. an hour): 200
1 hour cooking (162 cals. an hour):
162
TOTAL:
1,092
No TVs and other electronic devices to keep their children quiet and entertained meant they actually had to play with them.
1950s women also ate fewer calories -- 1,818 on average compared with 2,778 in 2003. The study attributes this partially to making meals from scratch versus buying prepared and junk food.
Other research found that 50s women enjoyed much more active sex lives because their time was not divided among career, childcare and leisure time outside the home. I wonder how many more calories they burned having more sex?
Question
: Would you give up your career, dishwasher, washing machine, car, TV, laptop, smart phone, your children's electronic devices, gym membership, socializing with friends, buying pre-made meals, eating out, dry cleaner, hired help, etc. in exchange for spending more quality time at home cooking, cleaning, playing with your children and having more sex with your husband -- all in an effort to stay slim?
My unequivocal answer is
no.
Back on topic. There's no need to tax the old noggin this summer. You do have to deal with entertaining children, after all. I'm going to Boston and Nantucket in July. And, my nine-year-old is obsessed with the Kennedy's. With that general geographic area -- as well as law breaking, infidelity, entitlement, privilege and shear stupidity -- in mind, I offer these four titles for your summer reading pleasure. Trust me. They are all entertaining.
Sittenfeld will be speaking at the
Decatur Library
July 1 at 7:15 pm.
Just in case you were wondering, the novel
Dr. Zhivago
was the number one best seller in 1958.
So, what's on your summer reading list?
Photo images:
1
,
2
,
3