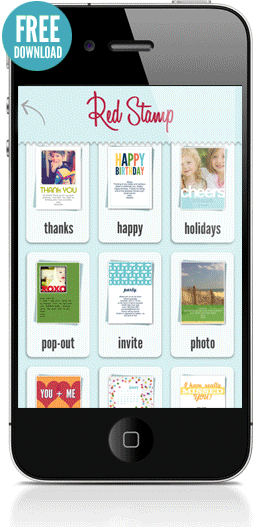 Do you all know about
Red Stamp
? I didn't until I stumbled upon the cofounder and CEO Erin Newkirk who is a
Matchbook
correspondent. Erin writes a column called
Etiquette Corner
. She is a "Matchbook girl" because she was the proud owner of not one, but
two
sets of personalized stationery before she could even write. A girl after my own heart!
Red Stamp allows you to create personalized cards, notes, invitations, announcements and much more right from your iPhone or desktop. You can send your correspondence via email, text, post it to Facebook or Twitter all for FREE. You also have the option to mail a paper copy anywhere in the world. Domestic mailings start at $1.99 for a single card (international mailings start at $2.99). Price is based on quantity. The more you order, the less you pay per card. That translates to saving you time and money. Given the dearth of tasteful greeting cards on the market these days, Red Stamp offers lots of classy options right at your fingertips. Plus, you can add a photo to your card. Love that!
I've written about Paperless Post -- my favorite online invitation service. I was curious about how Red Stamp differs, so I decided to reach out to Erin directly. Erin graciously offered to make a guest visit.
BMH:
I'm a self-professed paper hoarder. When did your love affair with stationery begin? Did you really have two sets of personalized cards before you could write?
EN
: Read OR write. Let's just say I come by my love of paper honestly, from my mother. I also had a few pads of pink and green personalized notepads, but who's counting?
BMH:
What else do you love?
EN:
My family, my friends, great food and lively get-togethers. I love occasions of authentic happiness. Not fancy, not overdone. Just comfortable. And lots of laughter!
BMH:
What sets Red Stamp apart from say Paperless Post?
EN
: I honestly love what Alexa and James Hirschfeld have created over at Paperless Post. They bring a formality to electronic correspondence that's cool. But, our take on correspondence starts with life and allows our sender/recipient to live in the moment, whether that moment is on the beach or at their desk. Our mission is to help people manage their social and business correspondence with style and grace so they can make their relationships stronger.
BMH
: Speaking of business, tell us a little about your new business correspondence.
EN
: Simply put, we want to do whatever we can to help small businesses and entrepreneurs affordably create and send personalized, branded letterhead, business cards, notes, invitations and announcements from wherever they do their best business.
BMH
: It's rare to get a card in the mail these days. I personally love finding one in my mailbox no matter what the occasion or sentiment (almost as much as getting a shelter mag). Being the etiquette maven that you are, when is it absolutely necessary to send a printed card?
EN
: Ah! Mailbox bliss. Yes, I love it too. Which is why printed postcards were a "must have" in our app. These days there are no hard and fast rules. I usually decide how I send a card based on 3 things: how the recipient prefers to receive correspondence; the occasion; and what contact info I have for my recipient -- that's the practical side of me, I suppose. Long answer, but I'd like to think that if I can make someone's day by delivering that sweet moment via post, then why wouldn't I send a printed piece?
BMH:
Emily Post's Etiquette questions whether wedding e-vitations are personal and special enough. An electronic version doesn't give it "keepsake status." What do you think?
EN
: I'm going to appear a bit old fashioned here, but I am all about paper when it comes to wedding invitations. Gorgeous paper stock. Engraving. Letterpress. Simple elegance. It's the little things that build into something as special as your wedding and marriage. I like to shake things up when it makes sense, but there are just some traditions that are beautiful and time honored. Why mess?
BMH
: I read that Red Stamp users sent 62,265 valentines this year. What's been your most popular holiday to date?
EN
: Valentine's Day. Ha. We are an international app, so it's rare to find one day that transcends all lifestyles, all religions in all regions. And, we love that our most popular day is all about love!
BMH
: What's next for Red Stamp?
EN
: So much. We are going to continue to make it easier for our clients to make their relationships stronger -- however and whenever it works for them. The business collections are flourishing rapidly. More features, more functionality, in more places. It's all in the works.
Thanks for stopping by Erin. I know my readers will love Red Stamp as much as I do.
Question for you readers
: If wedding e-vites were an option, would you consider sending them to your guests?
P.S
. While we're on the subject of weddings, Paperless Post is no longer paperless. In addition to adding paper cards to its digital line, the company just teamed up with Crane & Co. to print

wedding invites

.