As some of you may know, I majored in English lit in college. That's why I'm such a good writer. Just kidding. If you've noticed any typos, misspellings or other errors lately it's because I fired my editor. Lawyers are way too conservative.
F. Scott Fitzgerald's
The Great Gatsby
is one of my all-time favorite American classics.
To Kill A Mocking Bird
being first. If I could go back in time, the 20s would be my first choice -- both for the fun and the fashion.
So what do you all think about the soon-to-be released
Gatsby
remake? It opened this year's
Cannes Film Festival
in 3-D. Gasp! Remakes are
never
as good as originals. Turns out the original film adaptation was in 1926. Fitzgerald
walked out
of the theater before it ended. Guess he didn't like it.
The most famous Gatsby screen version was made in
1974
starring
Sam Waterston
,
Mia Farrow
and
Robert Redford
. It got panned by critics, but I'll loved everything about that movie, especially the lead actors and their costumes.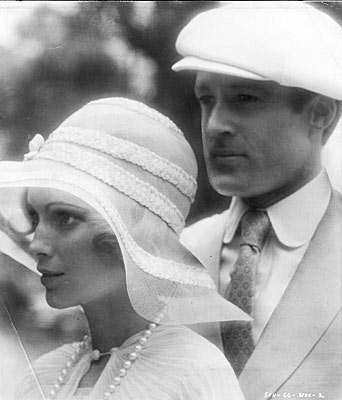 Could Leonardo pull off any of these looks?
Robert looking dreamy in pink.
And, dapper in white.
I think not.
Would Brad have made a better Gatsby?
Who would be your choice for leading lady Daisy?
Carey
is pretty cute (Loved her in
An Education
.). But, she is no Mia that's for sure.
I do like
Tobey Maguire
as Nick.
I also like Tiffany's
Gatsby collection
. I've put in a request for the blue sapphire
deco ring (far right) for Mother's Day. No doubt I will get it.
Gatsby
opens this Friday. Of course I will go see it, but my expectations are abysmal. Hope I don't walk out with 3-D glasses in tow.
Photo images:
1
,
2
,
3
,
4
,
5
,
6
,
7
,
8
,
9
,
10
,
11
,
12
,
13